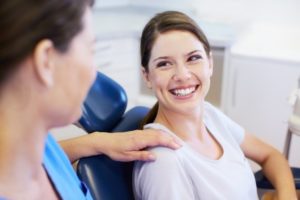 In addition to your home oral hygiene habits, you know that regular care from your dentist is equally as important. You schedule your appointment for a cleaning and checkup every six months without any concern. While you have worked hard to keep your smile healthy, a problem as recently developed that requires a complex procedure to treat it, like a root canal. Now, you are a little apprehensive about your upcoming appointment. To help you relax, your sedation dentist in La Plata can help.

Overcoming Dental Fears
It is estimated that 9% to 20% of Americans avoid going to the dentist due to dental-related fears and phobias. While you are normally comfortable during your appointments, the thought of an invasive or complex procedure is making your palms sweat.
No one likes to experience pain or discomfort while at the dentist. As a result, you may be tempted to put the procedure on hold, but this could cost you your tooth. No matter if you have had a bad dental experience in the past, are hesitant due to the fear of the unknown, or anticipate a painful treatment, you can overcome your dental fear in La Plata with sedation dentistry.
Options for Sedation Dentistry
When administered by a trained professional, sedation dentistry is safe and effective. Now, there are different types of sedation that can be used depending on your procedure and your comfort level.
Nitrous Oxide
Nitrous oxide, also known as laughing gas, is one of the most commonly used sedatives. It is inhaled through a mask that is worn over your nose to help you relax. It takes effect quickly without any lingering side effects. In fact, you are often able to drive yourself home from your appointment and you can resume your normal activities the same day.
Often, it is recommended for those who need a treatment that is fairly minimally invasive, such as a deep cleaning, filling, or if you have sensitive teeth.
Oral Conscious Sedation
If you have mild to moderate dental fears, oral conscious sedation may be recommended. It is a prescribed medication that is taken prior to your appointment. It is often best for those who have sensitive teeth or gums, a strong gag reflex, or need a minor procedure, like an extraction or a root canal.
The effects of the medication can take a few hours to wear off. As a result, you will need a friend or family member to take you to and from your appointment. It is best to limit your activities for the next 12 to 24 hours.
Relax with Sedation Dentistry
If you need a dental procedure, you have nothing to fear. Your sedation dentist will provide a pain-free appointment while helping you relax.
About La Plata Dental
La Plata Dental is committed to creating personalized treatment plans while keeping our patients' comfort in mind. We offer complete services, including many areas of specialty, like sedation dentistry. In you need a little help relaxing during your procedure, contact our office today to see if sedation is right for you.