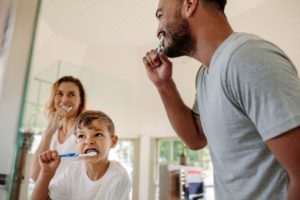 Getting your children excited to brush and floss twice each day seems like an impossible task. It's exhausting having to repeat yourself every 5 minutes in the morning while you're trying to pack lunches and clean up the house so you don't have to come home to a mess. Wouldn't it be nice if your son or daughter brushed and flossed without being reminded? You know their oral health is worth the hassle, but you'd like to make it less of a battle. Your dentist offers 5 ways to encourage your child to get excited about their oral hygiene below.
Starting Brushing and Flossing Early
Most dentists recommend that you introduce your child to dental care before their first tooth pops into their mouth. While they're still babies, you can rub a damp cloth along their gums each night to help remove any bacteria. It's recommended that you begin using a toothbrush when they're around 6 months old and begin flossing once their teeth touch. The American Dental Association recommends taking them for their first dental checkup when their first tooth emerges, or before their first birthday. This can be a great way to get your child used to the environment and reduce the chance of them experiencing any dental anxiety or fear.
Setting the Example
It's no surprise that your child looks up to you. Each morning and night when they see you brushing and flossing, they may be curious as to what you're doing. This is the perfect opportunity to talk about the importance of caring for your smile and why they should do the same. You can show them the proper way to brush and floss and let them try to mimic your movements!
Turning a Chore into a Game
Studies show that the longer you brush, the more plaque you're able to remove. Creating fun games to help pass the time can help your child brush for the full recommended two-minutes twice each day. Here are a few ideas:
Brushing during commercial breaks: During each commercial break, you can have your child brush a portion of their mouth.
Play their favorite 2 to 3 minute song: Instead of just setting a timer, you can make the two-minutes go by faster by playing your child's favorite song.
Offer fun and encouraging incentives: Each time your child brushes and flosses without being told more than once, you can offer fun rewards like getting to stay up an extra few minutes. You can also let them pick out the next movie for family night.
Brushing Storytime
You can get creative and invent fun stories about reasons your child should brush. One mother told her children that every night, they needed to catch animals hiding out in their mouth by brushing. It was a fun way to engage her daughters in their oral hygiene routine and turn it into an interactive game.
Involve Your Child in Oral Hygiene Shopping
When you go shopping for toothpaste and mouthwash, you can bring your son or daughter along with you and allow them to pick out a couple of products that excite them. Maybe they pick out a toothbrush with their favorite cartoon character on it or a new mouthwash that's a cool color they like. This can be a great way to have them running into the bathroom each night instead of away from it.
Make your nightly routine a little easier by adding a couple of incentives for your child to take care of their oral health. During their semi-annual checkups and cleanings, you can ask their dentist about any additional recommendations they can offer. Building a great foundation for your child's oral health can ensure that their smile remains happy and healthy for years to come.
About the Author
Dr. Mark Hochman has been crafting healthy smiles since 1977. As a member of the American Dental Association, Patuxent Dental Society, Maryland State Dental Association, and many more, he is able to provide his patients with trustworthy care they deserve. His patients enjoy high-quality treatment in a comfortable warm environment at La Plata Dental. For any questions or to schedule an appointment, visit his website or contact 240-349-2439.