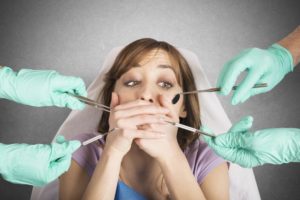 Does the thought of dentists poking around in your mouth make you break out in a cold sweat? Have you ever avoided a dental procedure you know you need because it makes you anxious? If so, you're not alone. It's estimated that as many as 20 percent of adults in the U.S. have avoided going to the dentist out of fear. That's why they use laughing gas, or a form of sedation dentistry designed to soothe your dental worries. How does it work? Are you a good candidate for laughing gas? Read more below to find out.
What Is Laughing Gas?
Laughing gas, also known by its scientific name, nitrous oxide, is an odorless gas that produces a relaxed, euphoric feeling when inhaled. It's a mild form of sedation that is administered through a mask worn over the nose before and during a dental procedure. Your dental team will adjust your dosage accordingly throughout the treatment to make sure you stay comfortable.
After your procedure is finished, the mask will be removed, and you'll be given some time for the gas to leave your system. The effects should wear off after about fifteen minutes or even less. That means that you can easily drive yourself to and from the appointment. Since many patients have busy lives these days, that means you can return to work or school right after you're done getting the dental care you need.
Who Is a Good Candidate for Laughing Gas?
If you experience mild to moderate anxiety at the thought of dental treatment, then laughing gas was practically made for you. it might also be great for patients who:
Have sensitive teeth, gums, or gag reflexes
Have trouble sitting still for long periods of time
Have special needs
Are uncooperative children
Need several procedures done in one appointment
However, there are some conditions, such as multiple sclerosis, where it would not be ideal to undergo nitrous oxide treatment. Additionally, it might be detrimental to women in their first trimester of pregnancy. Talk to your dentist about any conditions you have and how laughing gas would interact with them.
If it's been a while since you've visited the dentist, ask if they offer sedation dentistry. laughing gas might be just the thing you need to get the treatment you've been putting off.
About the Author
Dr. Andrew Betaharon is a graduate of the University of Maryland School of Dentistry. He is a member of the Dental Organization for Conscious Sedation, meaning he is certified to provide you with the laughing gas you need for your dental care. To learn more, contact the doctor at (240) 349-2439.