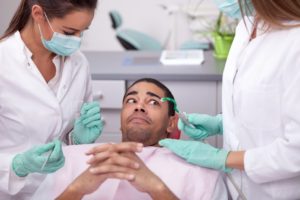 Does the thought of your dentist wheeling over a cart of metal tools that are seconds away from being in your mouth scare you? The thick, sterile-smelling air of dental practices can cause waves of anxiety for some people, especially ones who have had bad experiences in the past. If you've been putting off getting dental treatments that you've needed for the sake of your mental health, it could cause those issues to become more severe. Luckily, sedation dentistry offers multiple techniques that allow patients with phobias and anxiety to comfortably sit through their treatment without having to worry about a thing. Read on to learn about whether oral conscious sedation or nitrous oxide can help you.
Are Dental Phobias and Fears Real?
Dental anxiety is a very real emotional response that impacts an estimated 60 percent of people. In fact, it's included in the current Diagnostic and Statistical Manual of Mental Disorders. For some people, it causes them to avoid scheduling any kind of appointment with their dentist, even a routine checkup and cleaning. For others, it could cause them to lose sleep the night before they have to visit their dentist or trigger a panic attack as soon as they step foot into the treatment room.
While it's a very real response, it can have severe repercussions. Leaving oral health problems untreated will only make them get worse. For example, a simple cavity that isn't filled can turn into a tooth infection, resulting in the need for a root canal or even tooth extraction. If you suffer from dental anxiety or fear, search for a sedation dentist.
Sedation Dentistry Techniques
Sedation dentistry is a modern advancement in the field and has been thoroughly tested since the 1960s. Depending on what type of treatment you have and how severe your anxiety is, your dentist may recommend one of two techniques:
Oral Conscious Sedation— Administered in the form of a pill about an hour before your appointment, this form of sedation allows you to feel completely at ease as soon as you step foot into your dentist's office. This is a great option for patients who have a difficult time leaving home to attend their appointment due to their intense fear.
Nitrous Oxide— Administered in a gaseous form via a nose mask during your appointment, nitrous oxide has a euphoric effect on patients and is given at the time of your procedure. Your dentist can easily adjust the strength of the gas throughout your treatment, and the effects wear off almost immediately after the mask is removed from your face. This is a great option for patients who need longer or more extensive procedures because it's so fast-acting.
The best way to learn whether you can benefit from these modern sedation dentistry techniques is to schedule a consultation with your dentist. They will walk you through the process step-by-step and inform you about how you'll feel during and after your appointment. This way, you can feel completely comfortable and know that everything is going according to plan.
About the Author
Dr. Andrew Betaharon completed a general practice residency at the Veterans Affairs Hospital, where he gained a wealth of experience and knowledge. He is an active member of several professional organizations including the Dental Organizations for Conscious Sedation, allowing him to stay up-to-date with the latest advancements in sedation dentistry. His priority is ensuring that his patients feel comfortable and safe throughout their procedure, which is why he offers both nitrous oxide and oral conscious sedation techniques. For questions or to schedule a consultation, visit La Plata Dental's website or call 240-349-2439.