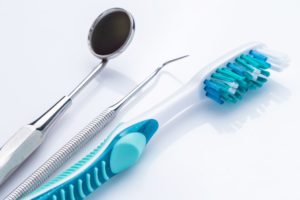 We live in unusual times as we keep our distance from friends and loved ones to combat the spread of COVID-19. While social distancing is important, so is your smile. Since many dental practices are closed, it's essential you maintain your oral hygiene at home. To keep your teeth and gums healthy until you can see your dentist, you need to commit to a dental routine. Here are 3 simple tips to get the most out of your oral hygiene products.
1. Choose the Right Toothbrush
Your toothbrush is the most important tool you have to prevent tooth decay and gum disease. Did you know not all toothbrushes are the same? The wrong toothbrush can make your oral hygiene routine less effective, leaving harmful plaque on your teeth. To ensure you choose the right toothbrush, here are a few things to consider:
Choose one that has earned the American Dental Association's (ADA) Seal of Acceptance.
Choose one that has soft bristles.
Consider the brush head and the size of your mouth.
Ensure the handle is comfortable.
2. Use the Right Technique
It's best to brush your teeth at least twice a day for two minutes each session. Besides your toothbrush, you'll want to use a pea-sized amount of toothpaste to clean your teeth. To make your brushing more effective, it's best to:
Hold your toothbrush at a 45-degree angle to your gum line.
Use a gentle, circular motion to clean all the surfaces of your teeth, including the backsides.
Gently brush your tongue to remove bacteria and trapped food particles.
3. Floss Every Night
With over 50% of Americans having a form of gum disease, flossing is essential for keeping your smile healthy. If you're like many people, you probably don't floss as often as you should; however, if you aren't flossing regularly, you're leaving as much as 40% of your teeth's surfaces uncleaned.
It's best to take the time to floss every night before going to bed. To ensure you're doing everything you can to protect your gum health, it's best to:
Choose a floss that's earned the ADA's Seal of Acceptance.
Use about 18 inches of floss that's wrapped around your index fingers.
Gently insert the floss between two teeth and form a "C" shape around a tooth while sliding it all the way to the gum line.
Maintain a Healthy Smile
Besides your oral hygiene habits at home, it's important to visit your dentist at least twice a year for a cleaning and checkup. Since many dental offices are closed, you might need to wait a little longer for your appointment. Don't worry, with the right oral hygiene routine at home, you can keep your smile healthy until you can see your dentist.
About Dr. Mark Hochman
Dr. Mark Hochman has been practicing dentistry since 1977. He has the experience and qualifications you need to maintain a healthy smile. As a lifelong learner, he's well-versed in the latest treatments and techniques to provide modern care. If you're looking for a new dentist, choose the trusted choice. Contact our office today for an appointment.