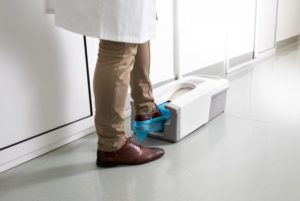 The COVID-19 pandemic has changed virtually everything about our lives, from how we go shopping for groceries to how we communicate with our friends and families. One aspect of society that has definitely changed is dentistry. Your dentist was only treating emergency patients for much of March and April, but they have recently made the decision to open and treat regular patients. However, they have to be extra careful to keep their office clean and germ-free. Here are some of the safety precautions that your dentist is taking to prevent infections.
Wearing Additional PPE
PPE stands for personal protective equipment and includes items like masks and gloves. Or at least, it did before COVID-19 turned the world upside down. Now a mask and gloves aren't enough to keep your dentist and patients like you completely safe from germs. These days, the members of your dentist's clinical team will be wearing extra PPE such as shoe coverings, double face masks, face shields, and even surgical gowns.
Having a Safety Champion
Every day, a different member of your dentist's staff will be randomly chosen to be that day's "safety champion." This person will be in charge of tasks such as fielding questions, enforcing social distancing, greeting patients, and generally making sure everyone is following the health and safety guidelines set by the CDC and the American Dental Association.
Performing Daily Health Checks of Our Team
When each member of your dental team arrives at the office in the morning, they will be required to answer a few quick questions about the current state of their health. Additionally, their temperature will be taken using a no-contact thermometer. If for some reason a member of the team is running a fever or doesn't feel well, they'll be sent home to recover.
Changing Work Clothes at Work
In the past, you may have witnessed a member of your dental team out and about, still clad in their stylish scrubs. That's not the case anymore. Recent research has suggested that changing into work clothes at home and then traveling to the office can bring in germs that infect patients and team members. Just to be on the safe side, your dental team will be changing into and out of their work clothes at the office.
Virtually every aspect of society has been drastically altered by COVID-19. Your dentist's office is no exception. Rest assured, though, that your dental team is taking every step they can to keep themselves and you as safe as can be.
About the Author
Dr. Andrew Betaharon is a dentist in La Plata, MD who earned his Doctor of Dental Surgery degree from the University of Maryland School of Dentistry. His professional memberships include the American Dental Association, the Maryland Dental Association, the Dental Organization for Conscious Sedation, and the Patuxent Dental Society. He makes sure to follow all the recommended safety protocols to keep all of his patients healthy and germ-free. To learn more about how you can remain safe at Dr. Betaharon's office, visit his website.