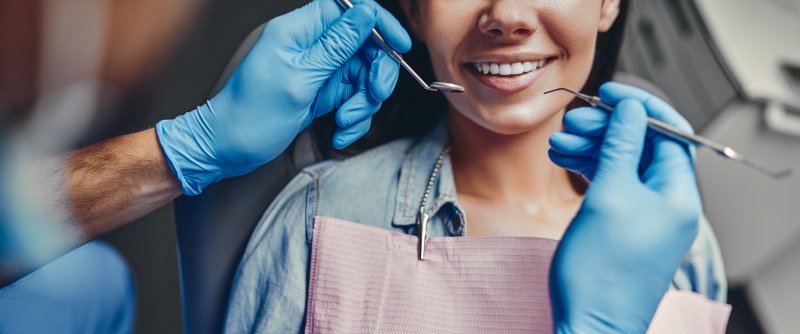 Your dentist takes safety and sterilization very seriously. Even outside of the COVID-19 pandemic, dental practices are some of the safest places you can visit. They adhere to very strict standards set by the CDC and OSHA to maintain the cleanest offices possible. Due to the pandemic, many practices are taking their hygiene efforts even further. Learn how your dentist in La Plata sterilizes their tools and keeps patients healthy during the pandemic.
How Dental Instruments Are Sterilized
Dental sterilization goes far beyond dunking tools in a cleaning solution. Dental practices have rigorous, thorough disinfection processes to prevent cross-contamination and ensure that instruments are completely clean.
Non-disposable dental instruments, such as mirrors, are cleaned in a device called an autoclave. Essentially, autoclaves use high-pressured, hot steam to sterilize dental tools. The instruments are placed inside of a color-changing sterilization pouch while the device is running. This pouch does not change color until the instruments inside of it are completely clean, taking out the guesswork and guaranteeing that the tools are not reused until the sterilization process is complete. Autoclaves are regularly inspected to make sure that they are doing their job and sterilizing dental instruments properly.
The Benefits of Disposable Tools
When possible, dental teams use disposable instruments and tools to cut out the need for re-sterilization completely. Most forms of PPE (personal protective equipment), such as masks and gloves, are disposable and replaced after each appointment. During the pandemic, many practices are incorporating even more forms of disposable PPE such as surgical gowns and shoe coverings.
Your safety and health are of the utmost importance to your dentist. They are taking every precaution to keep their offices completely sterile while still providing you with the high-quality care that you've come to expect. Dental instrument sterilization and the use of disposable PPE are just two of the many protocols your La Plata dentist has put in place during the pandemic. The next time you have a dental appointment, you can be certain that you are in one of the safest places you can be.
About the Author
Dr. Mark Hochman loves creating beautiful smiles and changing lives with his dentistry. He takes pride in educating his patients and helping them to achieve the best oral health they've ever had. Since graduating from the Howard University School of Dentistry, he has spent decades refining his technique and learning the best that dentistry has to offer. He has completed advanced training in areas all across the dental field, from cosmetic dentistry to laser dentistry. He has studied at some of the most well-known dental centers, such as the Dawson Institute. If you would like to learn more about what he and his team at La Plata Dental are doing to keep patients safe during the pandemic, they would love to speak with you. Give the office a call at (240) 349-7358 or reach out through their website.