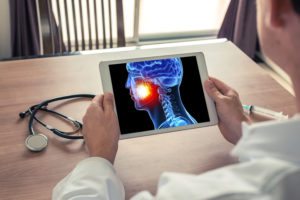 From pagers to palm pilots to smartphones, digital technology has advanced by leaps and bounds over the past few decades. While this progress may be obvious in our personal lives, it is also true in the field of dentistry. For example, many dentists are utilizing new Cone Beam CT scanning technology to help successfully replace missing teeth with dental implants. Does your dentist have access to the latest state-of-the-art X-ray equipment? Keep reading to learn how Cone Beam CT scanners are revolutionizing dental implant treatment – and how your smile can benefit.
What Is a Cone Beam CT Scanner?
Cone Beam CT scanning is an advanced form of X-ray technology used by dentists to create detailed, three dimensional (3-D) images of a person's teeth and overall oral structures. The scanner works by slowly moving a cone-shaped X-ray beam around specific points of the head, jaw and mouth to capture a large number of images. These high-quality images are then combined to produce a single, accurate 3-D rendering that a dentist can use to plan a personalized implant treatment.
A noninvasive Cone Beam CT scan just takes a few minutes – or even seconds – to complete!
Cone Beam CT Scanning and Dental Implants
If you want to replace a missing tooth with a dental implant, a Cone Beam CT scan can provide valuable information to your dentist about your teeth, gums and jawbone.
By being able to easily see your jawbone depth and the location of your nerves and blood vessels, your dentist can plan for your implant treatment with greater precision. He or she can also use the 3-D rendering from at Cone Beam CT scan to ensure a dental implant is the perfect dimensions to fit into the space left by your missing tooth.
Finally, a Cone Beam CT scan can also reveal underlying oral health issues that are invisible to the naked eye. Any issues that could interfere with the dental implant process must be addressed before starting treatment.
Benefits of Cone Beam CT Scanning
Dental implants are already one of the most popular and effective ways to replace missing teeth. However, choosing a dentist that uses the latest technology can help guarantee successful implant treatment. The many benefits of Cone Beam CT scanning technology include:
Quick, pain-free scan that does not produce any immediate side effects
Uses lower dose of radiation compared to regular CT scan
No radiation remains in the patient's body after scan is complete
Produces higher-quality images than conventional X-rays
Produces images of bone and soft tissue at the same time
Are you tired of living with a missing tooth? Talk to your dentist today about whether dental implants are right for you – and ask if they use Cone Beam CT advanced technology.
About the Author
Dr. Andrew Betaharon is a Maryland native with a decade of experience providing comprehensive oral care. A recipient of the International Congress of Oral Implantologists (ICOI) Dental Student Award, he enjoys working to restore patients' smiles with dental implants. To learn more about implant treatment and Cone Beam CT technology, visit the La Plata Dental website or call Dr. Betaharon at 240-349-2439.