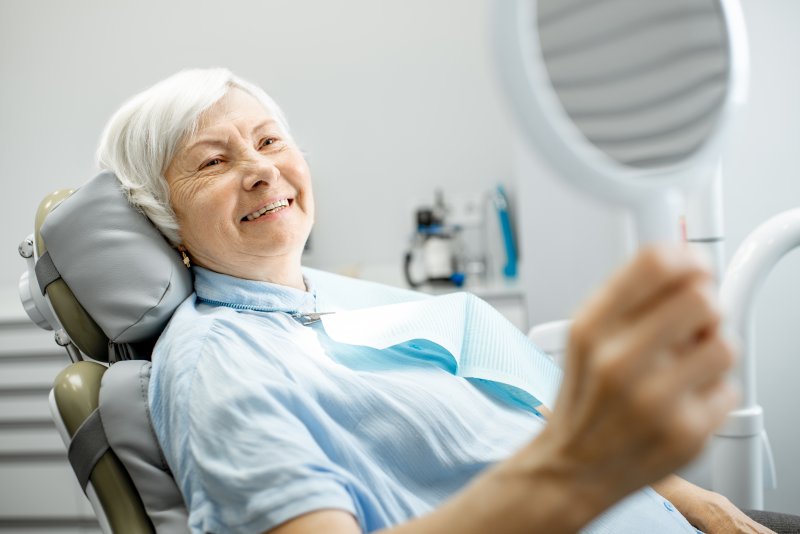 Did you know that 36 million Americans don't have any teeth? Plus, a staggering 120 million people in the U.S. are missing at least one tooth! Years prior, dental issues like these would lead to low self-esteem, a weak bite force, and an inability to speak properly. However, thanks to restorative treatment options like dentures, patients today can restore their smile, bite, and speech. But, when dentures become loose or do not fit properly, they can irritate your gums. If this happens to you, then it is important to speak with your dentist about having them repaired. Read on for six signs your dentures need to be fixed and how dental implants can help!
6 Signs Your Dentures Need to Be Repaired
To provide patients with natural-looking, stable, restorative treatment, dentures are designed to perfectly fit along the contours of your gums. However, since they cannot stimulate your jawbone, the shape of your jaw can change over time from deterioration. This can cause your dentures to become ill-fitting and move around when you talk or chew. Therefore, it is recommended that you have your dentures repaired regularly or when you:
Have difficulty chewing.
Notice chips, cracks, or broken teeth.
Experience discomfort.
See changes to the shape of your face.
Feel irritation stemming from your gums.
Get oral sores.
Treatment Designed for Stability
If the movement or constant readjusting of dentures has you looking for a more permanent solution, then it is time to talk to your dentist about dental implants. Traditionally, this restorative procedure would require patients to have an adequate amount of bone to be eligible. However, the innovative All-On-4 procedure allows dentists to fuse implants with the naturally denser parts of your jawbone. That way, your jaw can get the stimulation it needs, and you can enjoy the durable, natural-looking benefits implants are known for.
Whether you are missing one, a few, or an entire arch of teeth, it is advantageous to talk to your dentist about dentures and dental implants. By discussing the pros and cons thoroughly, you can make an informed decision on which treatment option is best for you. That way, you can talk, chew, and enjoy your life pain-free and with a beautiful smile!
About the Practice
At La Plata Dental, each member of their team is united by their mission to swap standard, subpar dental treatment for personalized, high-quality care that will really give you a reason to smile! So, whether you need a routine cleaning, smile upgrade, emergency appointment, or restorative treatment, their experienced, talented, friendly staff is ready to help. If you would like to speak with their team about repairing your dentures, visit their website or give them a call at 240-349-2439.