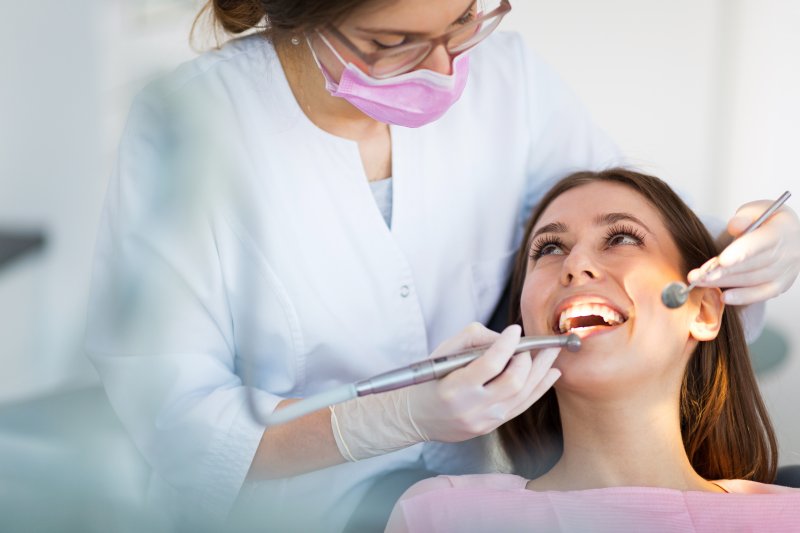 According to the Centers for Disease Control and Prevention, a whopping 50% of Americans have gum disease. Plus, it is one of the most common reasons patients visit their dentist and it is recognized by the CDC as one of the top three oral health problems U.S. adults face today. While many patients are aware of the negative consequences, like an increased risk of a stroke and heart disease, few are aware of how it develops. Therefore, a dentist is sharing the three stages as well as five prevention tactics every patient should know.
The Three Stages of Gum Disease
Plaque – Like many dental issues, gum disease starts with neglected plaque. This sticky substance can harden and turn into tartar if a solid oral hygiene routine is not in place. From there, it can make a home in the crevices of your mouth before irritating and infecting your gums.
Gingivitis – Once the plaque has turned to tartar and the bacteria have accumulated at or below your gum line, your gums will become red and puffy. Also, many patients will experience bleeding when they brush or floss or notice their gums are tender to the touch. These are all signs of the early stages of gingivitis, which is reversible if treated immediately.
Periodontitis – An infection in any part of your body is dangerous. However, an infection in your gums is especially unsafe due to their proximity to your brain and your digestive tract. If left untreated, the infection will develop and cause the gums to pull away from the teeth. Next, harmful bacteria will collect in the pocket that forms and continue to eat away at the tissue. At this stage, only periodontal therapy can restore your gum line and smile.
5 Prevention Tactics Every Patient Should Know
As you can imagine, preventing gum disease is beyond crucial. To protect your oral and overall health, patients need to prioritize prevention tactics that will keep their teeth and gums in pristine condition. In addition to brushing and flossing your teeth daily, always make sure to:
Use mouthwash regularly.
Visit your dentist bi-yearly for a dental examination and professional cleaning.
Always clean your tongue.
Drink plenty of water throughout the day.
Eat a vitamin-rich diet to keep your teeth and gums healthy from the inside-out.
Gum disease is dangerous enough on its own, but it can also lead to other health conditions that are equally as concerning. Therefore, make sure to visit your dentist twice a year for checkups and always practice good oral hygiene at home!
About the Practice
At La Plata Dental, personalized treatment, high-quality dentistry, and a quality-first approach to care is built into the foundation of their practice. With their talented staff at their side, Dr. Mark Hochman and Dr. Andrew Betaharon use their extensive experience, impressive clinical skills, and genuine care for their patients to deliver healthy smiles that are equally as beautiful. If you would like to speak with their team about improving your oral health or scheduling your bi-yearly appointment, visit their website or give them a call at 240-349-2439.