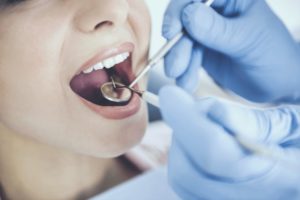 For decades, dentists have used dental sealants to help protect their patients from tooth decay. In fact, the Centers for Disease Control and Prevention reports that this simple treatment prevents 80% of cavities in the back teeth, where about nine out of 10 cavities occur. While dental sealants are typically given to children, adults can benefit from them as well! Read on as your La Plata dentist explains how dental sealants work and when you should consider them as an adult.
What Are Dental Sealants?
A dental sealant is a thin, clear coating of dental plastics, resins, and other materials. It can be painted onto the chewing surfaces of teeth, particularly the back molars. This pliable material can easily fill in the depressions and grooves in enamel where plaque, bacteria, and food debris can accumulate. Once hardened into place with a special curing light, the dental sealant acts as a barrier to protect these vulnerable areas from bacteria and acids that cause cavities.
Why Do Children Need Dental Sealants?
Usually, it's recommended that children get dental sealants when their first and second molars come in, usually around the ages of six and 12, because:
Baby teeth are particularly susceptible to cavities: Primary teeth have less enamel than permanent teeth. When plaque and bacteria collect in the grooves of their molars, they're much more likely to develop tooth decay.
Children are still learning to practice great oral hygiene: Not only are baby teeth weaker, but since young children are still learning to brush and floss properly, they're more likely to leave behind cavity-causing bacteria, especially on the back molars.
Baby teeth are important for oral development: Keeping primary teeth healthy and protecting them from falling out prematurely is important for how their permanent teeth and bite alignment develops.
Can Adults Benefit from Dental Sealants?
However, childhood isn't the only time dental sealants are beneficial. As an adult, there are a variety of factors that could put you at a higher risk of cavities than others. You may benefit from dental sealants if you have:
Somewhat misshapen teeth: If you naturally have deep grooves or pits in the top surface of your teeth, you are more likely to accumulate cavity-causing plaque and bacteria.
Chronic dry mouth: Medications like antihistamines, lifestyle choices like exercise and alcohol consumption, and health conditions like asthma can all cause chronic dry mouth, which dramatically increases your risk of tooth decay. Dental sealants may be able to help in some of these cases.
Genetically softer enamel: Tooth enamel can be stronger or harder depending on your unique genetic makeup. Dental sealants may be a great choice for those with softer enamel.
You're never too old for tooth decay, so if you feel as if you get more cavities than you should, it's time to talk to your La Plata dentist about dental sealants. This quick and easy treatment can make a huge difference in keeping your smile happy and healthy in the long run!
About the Practice
At La Plata Dental, we would always rather help you prevent oral health issues like tooth decay rather than fix them once they've developed. That's why we encourage all our patients to come visit us for routine checkups twice a year. We use state-of-the-art technology alongside reliable preventive treatments like dental sealants to help our patients maintain optimal oral health. To see if dental sealants are right for you, don't hesitate to contact us via our website or at (240) 349-2439.