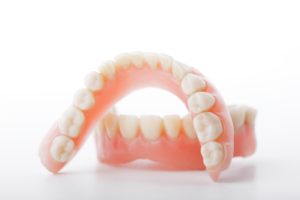 Natural teeth can be preserved for longer than ever using the latest innovations in dentistry; however, 35 million adults still struggle with complete tooth loss. Traditional dentures have been the go-to solution to replace an entire arch of missing teeth because they are convenient. Unfortunately, although they look and feel more realistic than ever, they will always have their limitations. If you hate your dentures, you're not out of options. You can enjoy the next best thing to your real teeth using dental implants.
Stop Slipping and Irritation Permanently
A conventional denture sits on top of your gum tissue using suction or an adhesive. Several advancements over the years have improved their fit, function, and appearance, but you will also deal with some slipping and irritation. You don't need to avoid your favorite foods any longer. You can regain as much as 70% of your biting force using 4 to 10 dental implants to anchor your denture to your jawbone. You can chew, smile, and speak confidently knowing your denture will stay securely in place.
Replace the Entire Tooth Structure
A traditional denture only recreates the portions of your teeth visible above the gum line. As a result, it can't stop bone loss in your jaw. An implant-retained denture goes a step further than a conventional prosthetic.
Titanium posts are surgically placed into your jawbone to serve as new tooth roots. This stimulates your jaw to encourage bone growth. You will preserve your jawbone to improve your oral health while also preventing premature facial wrinkles and sagging skin. Your bone will fuse to the posts through a process called osseointegration. Not only will your denture be stable, but your new smile will have the potential to stay in place forever with the right care.
Enjoy a Long-Term Solution
An implant-retained denture is a long-term investment in a complete smile, unlike the traditional method. Your dental implants won't need to be replaced every few years. Instead, they have over a 95% success rate to last for several decades with the right oral hygiene habits. You'll enjoy permanent results to save money down the road.
Skip Lengthy Cleaning Routines
An implant-retained denture doesn't require any messy adhesives or cleaning products. Instead, care for your new teeth just as you would your natural smile. Pay extra attention when cleaning near the abutments and implant posts to remove any harmful plaque or bacteria. You'll save time and money by securing your denture.
Invest in Dental Implants
If you're ready to skip the hassle and headache of a traditional denture. It's time to see if you're a candidate for dental implants to gain a close replica of your natural smile.
About Dr. Andrew Betaharon
Dr. Betaharon earned his dental degree from the University of Maryland, School of Dentistry. He has completed advanced training in many specialties, like implant dentistry. As an active member of various organizations, including the American Dental Association, he can replace your missing teeth using dental implants. Contact our office today to schedule your consultation for a complete smile.