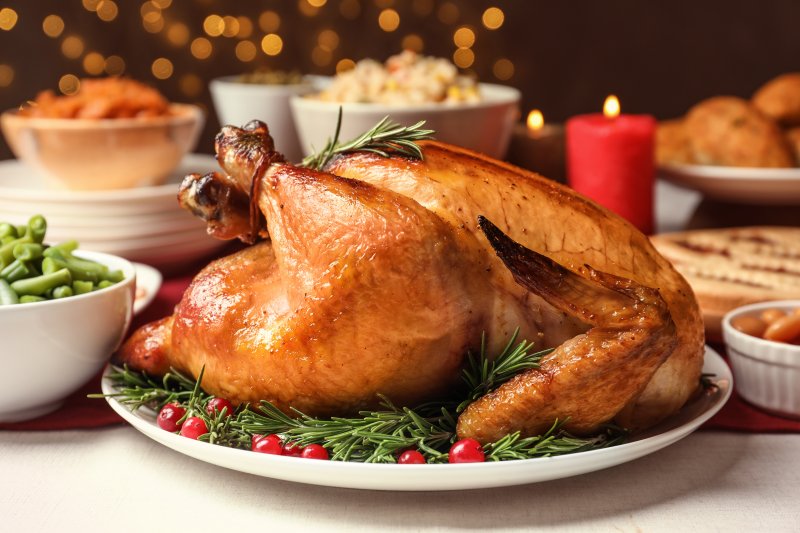 The holiday season is nearly here! That means that you're probably looking forward to catching up with relatives, pulling out the old family recipe book, and enjoying some delicious homecooked meals. However, your smile isn't looking forward to the holiday nearly as much as you are. In fact, many different holiday and Thanksgiving foods can be quite harmful. Continue reading to learn more from your dentist in La Plata about which foods you should avoid, and which ones are healthier for your teeth.
What Are the Worst Holiday Foods for Your Teeth?
Even though the following treats are delicious, they can certainly have some negative consequences that you should be weary of:
Candy Canes: These minty, hard treats are a holiday staple! However, they aren't very great for your teeth. This is because when you eat them, you're pretty much just enjoying straight-up sugar. This can cause you to develop cavities in the near future. This is definitely a candy to keep to a minimum.
Eggnog: For some, this sweet beverage is what completes the holiday season. The problem is that it has so much sugar in it, it can cause tooth decay, especially if you are sipping on it for a long period of time. If you like to spike your eggnog with brandy or bourbon, you're looking at additional problems. Alcohol can cause you to develop dry mouth when you have too much.
Chocolate: While you probably find yourself enjoying chocolate all throughout the year, it definitely seems to make more appearances throughout the holiday season. Unfortunately, milk chocolate contains lots of sugar which increases your risk of cavities. The good news is that dark chocolate isn't as harmful. If you are craving a cocoa treat, the darker the better!
What Are the Best Holiday Foods for Your Teeth?
Not all holiday foods are bad! Make sure you save plenty of room for the following foods and snacks:
Turkey: If you're planning on having a turkey feast for Thanksgiving or Christmas, there is no reason to feel guilty. Since turkey is non-fermentable, it doesn't stimulate cavity-causing bacteria responses in the mouth. It also contains phosphorus which works with calcium to keep your teeth and bones strong!
Cheese: Before you bring out the larger courses, try starting out with a cheese board. Cheese is antibacterial and has a lower pH level than your mouth does. This helps to lower the acidity in the mouth. Cheese is also an excellent source of calcium!
Nuts: Don't let your nutcracker just sit in the corner and get all dusty. Nuts contain all sorts of nutrients including magnesium and iron. They also supply you with a healthy dose of calcium and stimulate saliva flow in the mouth.
Through the coming months, don't forget about your smile. By making smart decisions about the holiday foods that you are eating, you can finish the season cavity-free!
About the Practice
At La Plata Dental, you have not just one, but two experienced dentists. Dr. Mark Hochman and Dr. Andrew Betaharon both have many years of training experience and are members of numerous professional organizations. They include the American Dental Association, Maryland State Dental Association, and Patuxent Dental Society. To learn more about maintaining a healthy smile or to schedule an appointment, visit their website or call (240) 349-2439.