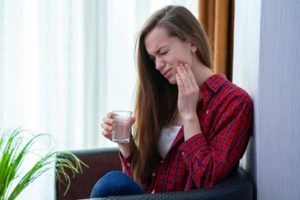 Feeling a sharp pain when eating sweets or shuddering from the sensation of hot or cold items are two telltale signs that you may be suffering from dental sensitivity. Studies show that about 1 in 8 adults has sensitive teeth. Keep reading to learn what causes tooth sensitivity and how your dentist in La Plata can help.
The Causes of Dental Sensitivity
Your teeth and gums can become sensitive after a whitening treatment, but more common causes for dental sensitivity include fractures, enamel erosion or decay. These dental issues cause the nerve or the dentin, tiny tubules under the enamel that connect to the nerve, to become exposed. Another reason could be gum recession. Both infection and gum disease can result in your gums pulling away from your teeth, which exposes the roots and causes sensitivity.
When to Visit Your Dentist
It is a good idea to visit your dentist when the pain first begins. Depending on the reason for your sensitivity, they may suggest using a desensitizing toothpaste or mouthwash. If it is the result of a cracked tooth, cavity or decayed filling, your dentist may recommend a more significant treatment.
Possible Treatments
Tooth sensitivity can be very painful and frustrating. The good news is that there are ways to minimize the symptoms or even get rid of them permanently.
Desensitizing Products: With frequent use, desensitizing toothpaste or mouthwash can help block the pain of dental sensitivity. There are many over-the-counter options available, so ask your dentist which might be best for you.
Bonding: If your sensitivity is caused by exposed roots or cracks, your dentist may be able to apply a composite resin to decrease sensitivity. Bonding does not harm your tooth in any way and can act as a barrier to protect dental nerve endings.
Root Canal – If a cavity or decayed filling is the cause of your tooth sensitivity, it may be time for a root canal. This treatment involves the removal of the infected tissue at your tooth's core and the placement of a crown over the surface of your damaged tooth. This treatment is the best way to eliminate dental sensitivity permanently.
One way to prevent the occurrence of sensitive teeth is to make sure you brush your teeth twice a day for two minutes using a soft-bristled toothbrush and fluoride toothpaste. Don't forget to floss! Though tooth sensitivity is not considered a dental emergency, it can certainly feel like one. The sooner you visit your dentist, the sooner they can help bring an end to your dental discomfort.
About the Practice
Drs. Mark Hochman and Andrew Betaharon are dedicated to helping each patient achieve the healthy, beautiful smiles they deserve. In addition to their many years of training and experience, their gentle, attentive care have made them trusted dentists in the La Plata area. Their professional affiliations include the American Dental Association, the Maryland State Dental Association, the Dental Organization for Conscious Sedation and more. If you are suffering from dental sensitivity, call the office at (240)349-2439 or visit the website to schedule your visit today.