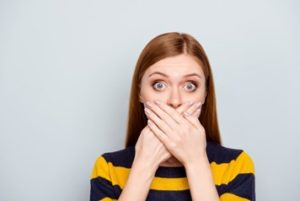 You wake up after a restful night of sleep and roll over to kiss your partner, but instead of returning your affections, they push you away and turn their head. The problem isn't you, it's your morning breath. Everyone experiences bad breath every once in a while, so try not to be too hard on yourself. Many factors can lead to halitosis or chronic bad breath. Keep reading to learn what causes it and how your dentist in La Plata can help you get fresher breath.
Potential Causes of Bad Breath
Halitosis can start on the inside or the outside of the mouth. While it is typically the result of gum disease or plaque and bacteria buildup on the teeth and tongue, it can also be caused by a foreign body that has become lodged in the nasal cavity. Below is a list of the usual culprits:
Tobacco
Undigested Food Particles
Dry Mouth
Poor Dental Hygiene
Medication
Liver failure and mouth, nose and throat conditions and diseases like gastroesophageal reflux disease (GERD) can also lead to bad breath.
How to Tell if You Have Bad Breath
About 30 percent of the population deals with halitosis, but some are not aware of it. If asking your dentist or someone you trust is not how you want to learn about your breath, one way to check is to lick your wrist, let it dry for a moment and sniff. You can also gently scrape your tongue with a tongue scraper or toothbrush and take a whiff.
How to Treat It at Home
You can treat bad breath at home by brushing your teeth regularly, flossing, keeping dentures and clear aligners clean and avoiding food choices like onions, garlic or spicy foods. It is also a good idea to reduce your coffee and alcohol consumption avoid tobacco products. 
How Your Dentist Can Help
If chronic bad breath is the problem, your dentist will complete a thorough evaluation of your medical and dental history and perform an oral exam. After running a few tests, your dentist will work out a plan of action to resolve the underlying issue.
If you think you might have chronic bad breath, the good news is that you don't have to suffer anymore. Just schedule a visit with your dentist so they can help you get back to fresh breath.
About the Practice
The team of dentists at La Plata Dental are dedicated to providing high-quality dental care to each patient, no matter their age. Drs. Mark Hochman and Andrew Betaharon offer personalized treatment plans with a dedication to helping the citizens of La Plata achieve the healthy smiles they deserve. They offer a wide range of services including periodontal therapy, sedation dentistry and more. If you're suffering from halitosis, contact the office at (240)349-2439 or visit the website so you can get your oral health back on track.