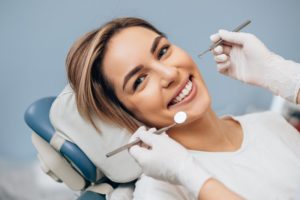 Statistics show that up to 60% of dental emergencies are avoidable. Naturally, the question then arises, "How do I go about avoiding an emergency?" A local dentist says the key is preventive care. The more diligent you are in this area, the better your oral health will be. As you continue reading, learn what you can do to protect yourself from a dental emergency!
Pay Attention to the Subtle Changes
It's important not to ignore any changes in your oral health. For example, if you start noticing blood when your brush your teeth, it could be an indication of gingivitis (inflammation of the soft tissue), which is the first stage of gum disease. If this persists, you should bring it to your dentist's attention. Therefore, if there is an oral health issue on the horizon, it can be treated.
Make Dental Hygiene a Priority
Toothbrushing and flossing are the pillars of dental hygiene. They are of equal significance, as the combination of the two provides a thorough cleaning of your teeth. The American Dental Association (ADA) recommends brushing and flossing at least two times a day to control oral bacteria growth. For maximum protection, you can clean your teeth after every meal.
By removing any leftover debris that would attract bacteria, you can reduce the chances of cavity development that could eventually lead to a dental emergency.
Monitor What You Eat
While all foods can contribute to tooth and gum decay if dental hygiene is ignored, there are some that are more detrimental to your oral health than others. Foods high in sugar are the most dangerous. It's best to limit your consumption of chips, desserts, candy and sodas, as these items are typically high in sugar that attracts corrosive oral bacteria.
To balance your diet, consider eating more fruits and vegetables, dairy products (milk, plain yogurt, cheese, etc.) that are low in sugar and foods that are higher in protein (chicken, tuna, nuts, etc.). Many of these items will also help to strengthen your teeth and gums.
Maintain Regular Dental Visits
If you have dental insurance, you're paying a monthly premium to maintain coverage. One of the best ways to maximize your investment is to visit your dentist every six months for cleanings and checkups. The thorough cleaning will ensure that any built-up plaque and tartar are removed, and the examination will allow the dentist to identify any budding problems.
These appointments also provide an opportunity to expand your dental care knowledge, as you're likely to learn about better cleaning techniques and new products that can further improve your oral health.
It's impossible to completely eliminate any chance of a dental emergency occurring, but it's comforting to know that you have the power to better protect yourself. You can never go wrong with being more proactive about taking care of your teeth and gums!
About the Author
Dr. Andrew Betaharon is a graduate of the University of Maryland School of Dentistry. As part of his commitment to excellence, he maintains professional affiliation with the Maryland State Dental Association, Patuxent Dental Society and other organizations. Dr. Betaharon helps his patients avoid dental emergencies by offering thorough and attentive preventive dentistry at La Plata Dental, and he can be reached for more information through his website.