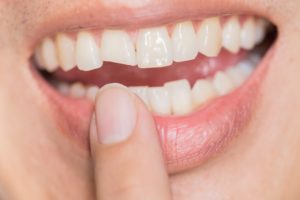 Porcelain veneers offer a convenient way of overcoming minor smile flaws to improve your overall appearance. However, it's not something to just rush into. You first need to determine whether you're a good candidate for veneers. As you continue reading, learn how the procedure works and what criteria you need to meet.
What are Porcelain Veneers?
Custom designed and crafted from high-grade ceramics, porcelain veneers are thin shells that fit directly over the front-facing teeth. The process begins with the dentist removing a thin layer of enamel to allow the veneers to fit naturally into your smile line. After bite impressions and measurements are taken and sent to a lab, temporary veneers are placed over the exposed area to protect your teeth until the final fixtures arrive. When the permanent veneers are ready, you'll be invited back to the dentist's office to have them bonded into position.
Determining Your Eligibility
Before treatment gets underway, you'll first need to visit the dentist for a consultation. The first order of business will be to determine the condition of your oral health, which includes the dentist looking for signs of tooth or gum decay. You'll also need to have a sufficient amount of healthy tooth enamel and no signs of teeth grinding (called bruxism). If there are any issues discovered, they will need to be effectively treated before moving forward with the cosmetic procedure.
In addition to an oral health assessment, the dentist will take your aesthetic needs into account. Here are some of the imperfections that veneers can address:
Discolored or stained teeth
Minor cracks, misshaped teeth or chips
Slightly crooked or misaligned teeth
Once your smile is upgraded with veneers, the next step is to maintain your new appearance.
How to Protect Your Veneers
To get the most mileage out of your improved look, you'll need to practice excellent dental hygiene. This should include brushing and flossing at least two times a day to keep oral bacteria under control. It's also important to avoid using your teeth to bite fingernails, crunch hard candy or food, chew ice or to gnaw on pencils.
Additionally, you should make it a priority to visit your dentist every six months for preventive care. These appointments will provide you with a thorough cleaning and examination to make sure there are no threats to your oral health and smile aesthetics.
The more mindful and active you are about protecting your veneers and maintaining excellent oral health, the longer you'll be able to smile with pride and enjoy a more confident life!
About the Author
Dr. Andrew Betaharon earned his dental degree from the University of Maryland School of Dentistry. An active professional, he maintains membership with the Maryland State Dental Association, Patuxent Dental Society and other organizations. To further stay abreast of the latest changes in cosmetic dentistry, Dr. Betaharon also takes several hours of continuing education annually. He creates beautiful smiles with porcelain veneers at La Plata Dental, and he can be reached for more information through his website.