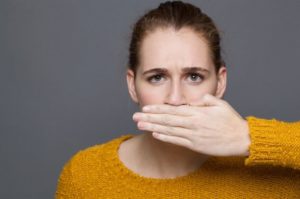 Nothing is more embarrassing than a foul odor escaping from your lips when you open your mouth. Everyone experiences bad breath occasionally, like after eating garlic; however, it's a chronic issue for 80 million people. Also known as halitosis, it's easy to feel insecure about bad breath. Thankfully, it's a correctable problem. Here are 6 ways to combat odor-causing bacteria to freshen your smile.
1. Brush Your Teeth Twice a Day
Most cases of halitosis are caused by bacteria found on the teeth, gums, and tongue. A simple way to remove bacteria is by stepping up your oral hygiene routine. The American Dental Association recommends brushing your teeth at least twice daily for 2-3 minutes each session. Use a soft-bristled toothbrush and nonabrasive toothpaste to clean all surfaces of your teeth to remove food particles and plaque.
2. Floss Every Day
Although your toothbrush is effective, it can't clean everywhere in your mouth. Flossing is the only way to reach the areas missed by your toothbrush. If you aren't flossing your teeth every day, you're leaving as much as 40% of your tooth's surfaces susceptible to bacteria. Use high-quality dental floss to clean between your teeth daily to prevent bacteria from lingering in your mouth.
3. Clean Your Tongue
Did you know your tongue should also be cleaned twice a day? It is the perfect place for bacteria to thrive. Food residue and bacteria can quickly accumulate in the folds of your tongue and between your taste buds. You can remove it by taking a few seconds to brush your tongue in the morning and at night. If you don't want to use your toothbrush, consider a tongue scraper.
4. Use a Mouthrinse
A mouthrinse is a great way to freshen your breath. It kills bacteria missed by your toothbrush and floss while also providing a minty taste. Look for an antimicrobial mouthrinse to help reduce bacteria.
5. Drink Plenty of Water
If your mouth is too dry, it allows bacteria to grow quickly. Staying hydrated is a great way to keep your mouth moist while also cleansing your teeth and gums between brushing and flossing. It's best to skip sugary drinks and reach for a glass of water when you're thirsty.
6. Visit Your Dentist
If changes at home aren't enough to stop your bad breath, it's time to see your dentist. There might be an untreated dental issue causing the odor, like decay or an infection. They'll create the personalized plan you need to treat halitosis, so you can laugh, speak, and smile without needing to worry about an unpleasant smell.
Don't let bad breath stop you in your tracks. By taking the time to clean your mouth every day, you can save yourself the anxiety of worrying about bad breath.
About Dr. Andrew Betaharon
Dr. Betaharon earned his dental degree at the University of Maryland School of Dentistry. He has completed advanced training in many specialties, like dental implants and Invisalign, but he can also help with everyday problems, like bad breath. Dr. Betaharon provides the advanced solutions you need to achieve your best smile. Contact our office today to schedule an appointment.