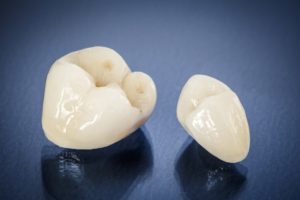 If you're ready to invest in an attractive smile, you have more options than ever to achieve the results you want, like porcelain veneers and dental crowns. While they have many similarities, they also have several differences, so which one will give you the smile you want? Here's what you need to know to determine if veneers or crowns are right for you.
What are Porcelain Veneers?
A veneer is a thin shell that's bonded to the front of a tooth to hide a variety of aesthetic issues. Modern veneers are very thin to look natural while also keeping more of your tooth's structure intact during the bonding process. The minimally invasive treatment will improve the overall color, size, and shape of your front teeth. Every case is unique, but most patients need 4 to 12 veneers to create seamless results. While they can be placed on the back molars, they tend to break, so veneers are typically only used on the teeth visible when smiling.
Candidate for Veneers
Veneers can be a suitable solution for patients who want to achieve drastic results quickly. Generally, they are recommended for people who want to treat certain cosmetic issues, such as:
Strains and discoloration
Chips and cracks
Smaller than average teeth
Gaps between teeth
Since veneers are considered elective, it is rare for a dental insurance to cover their cost. Don't worry, your dentist will offer several solutions to keep your picture-perfect smile within your budget.
What are Dental Crowns?
A crown is an all-ceramic cap that's bonded over the entire surface of a tooth above the gum line, so your dentist will need to reshape it. It's made to match the appearance of your real teeth to blend in seamlessly when you smile. Crowns are made of durable material to last for years with the right aftercare, even when they are placed on the molars.
Candidate for Crowns
Although crowns are used in cosmetic dentistry, they are primarily used for restorative procedures. They can be used to fix:
Large areas of decay
Dark tooth discoloration and stains
Breaks and fractures
Weakened teeth
Abnormally shaped teeth
Unlike veneers, crowns are included in many dental insurance plans when deemed necessary for your oral health. Depending on your coverage, your benefits can pay as much as 80% of the cost. If there's any out-of-pocket expense, your dentist will discuss your payment options.
Achieve a Beautiful Smile Today
You don't need to feel insecure about your teeth any longer. Your cosmetic dentist will create a personalized strategy to enhance the health and appearance of your smile. Take your first step toward a confident future by scheduling your consultation for crowns or veneers.
About Dr. Mark Hochman
Dr. Hochman has been practicing dentistry since 1977 after earning his dental degree from the Howard University School of Dentistry. He has undergone advanced training in cosmetic and restorative procedures. Dr. Hochman is a member of various professional organizations, including the American Dental Association and the American Academy of Cosmetic Dentistry. If you're interested in crowns or veneers, contact our office today for an appointment.