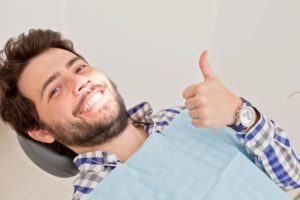 You can't take the pain any longer—you schedule an appointment with your dentist and anxiously await the diagnosis. When they say your tooth needs a root canal, you start to panic! Is it really that serious? How can your day get any worse? Why did you have to get such bad news?
But hold on! Although you may not jump for joy over needing dental work, getting root canal therapy is actually good news for your smile. Read on to learn about the silver lining or benefits of root canals and how you can keep a positive attitude about your situation.
The Tooth Can Be Saved.
Although you wish circumstances could be different, don't say that your situation can't be any worse, because it definitely could! The problem could necessitate extraction. Perhaps at first, you even think that you'd be better off simply removing the tooth than undergoing root canal therapy, but that's not true. Myths and past bad experiences have tainted perceptions of this treatment.
Yes, dentistry has made great strides over the years with replacement teeth, especially with dental implants. However, nothing can completely compensate for a natural tooth. Plus, replacing teeth can take months or even over a year! That's why most dentists tend to take a preventive approach and try to salvage real teeth as much as possible. Without successful root canal therapy, decayed or damaged teeth would unfortunately have to be removed entirely.
Your Pain Will Soon Be Gone.
Often, but not always, root canals are preceded by intense tooth pain. Although you can require a root canal without having pain, many patients do experience severe discomfort prior to this treatment. However, once the root canal has been performed, the pain should disappear because the pulp or nervous center of the tooth will have been removed and the inner tooth chamber sealed. In other words, hearing you need a root canal is like being told that relief from your suffering is near!
You Don't Have to Pay for Replacement Teeth.
Not only does replacing lost teeth take a lot of time and effort, but it also racks up a pretty penny. Even bridges and dentures, which have a lower initial price tag can end up costing you much more in the long run with replacements every few years. You could save thousands of dollars in the long term by keeping most of your original tooth and treating it with a more cost effective root canal and dental crown.
If you're told that you need a root canal, you don't have to despair. Look at the bright side and see the good in the circumstances—this treatment allows you to enjoy these benefits and regain a healthy smile even after tooth decay or injury.
About the Practice
Although the dentists at La Plata Dental come from differing backgrounds and experience, they share a deep enthusiasm and passion for helping people and making a difference in their lives. Dr. Mark Hochman has been practicing for more than 40 years and completed a general practice residency at Philadelphia General Hospital. Dr. Andrew Betaharon did his general practice residency at Veterans Affairs Hospital in Long Beach, CA. Together they strive to make dental visits and procedures as enjoyable for patients as possible. If you think you need a root canal, you can schedule an appointment with them through La Plata Dental's website or by calling 240-349-2439.