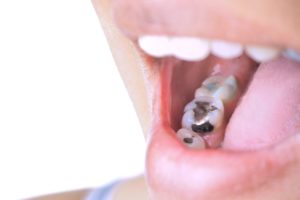 Do you have metal fillings in your teeth to prevent tooth decay? Metal has been a primary material for dental use for over 150 years. However, recent research has raised new doubts about whether metal fillings are safe for long-term health. Keep reading to learn what the experts say and whether you should replace metal fillings with a safer alternative.
What Are Metal Fillings?
Metal fillings restore areas of a tooth where a cavity has been removed and prevent further decay. They are often known as silver fillings because of their color. However, metal fillings are not made of 100% silver. Instead, they typically contain a mix of tin, copper, silver, and mercury. This mixture is durable when it dries and less expensive than other filling materials used for dental restorations.
Are Metal Fillings Safe?
According to the American Dental Association, metal fillings are a safe restorative option for both children and adults. However, a University of Georgia study published in 2016 examined participants with metal fillings and found that people with more than eight could be at-risk for increased levels of mercury in their blood. Mercury, one of the components of metal fillings, is a toxic heavy metal that can produce harmful effects on the nervous, digestive and immune systems, as well as the lungs and kidneys. According to a review of data published by the International Journal of Environmental Research and Public Health in 2019, mercury exposure from metal fillings may be associated with:
Neurological disease
Multiple sclerosis
Alzheimer's disease (for those who are 65 or older with metal fillings)
More Reasons to Replace Metal Fillings
There are other reasons why some patients replace their metal fillings. For instance, metal restorations are temperature-sensitive and can expand and contract when they come into contact with very hot or cold food or drinks. Frequent expansion and contraction can lead to tooth sensitivity or even enamel fractures over time. In addition, some people find that they are allergic to certain components in metal fillings, such as copper or tin. An allergic reaction to metal fillings may cause sores in the person's mouth.
Alternatives to Metal Fillings
These days, many patients are turning to tooth-colored restorations to replace metal fillings. Made from a mix of acrylic plastics blended with tiny glass particles, tooth-colored fillings are non-toxic, bond easily with enamel, and can blend in seamlessly with your natural smile.
These popular restorations restore up to 95% of the original strength of a tooth and can typically be placed in less than half an hour. Perhaps most importantly, dental insurance typically covers a large portion of the costs of tooth-colored fillings.
If you're unhappy with the way your metal fillings look or worried about their impact on your health, ask your dentist about tooth-colored fillings.
About the Author
Dr. Mark Hochman has over 40 years of experience helping patients maintain healthy smiles. At La Plata Dental, he offers natural-looking, composite resin fillings to fix minor tooth decay and damage. To learn more about why you should replace metal fillings, visit the La Plata Dental website or call 240-349-2439.