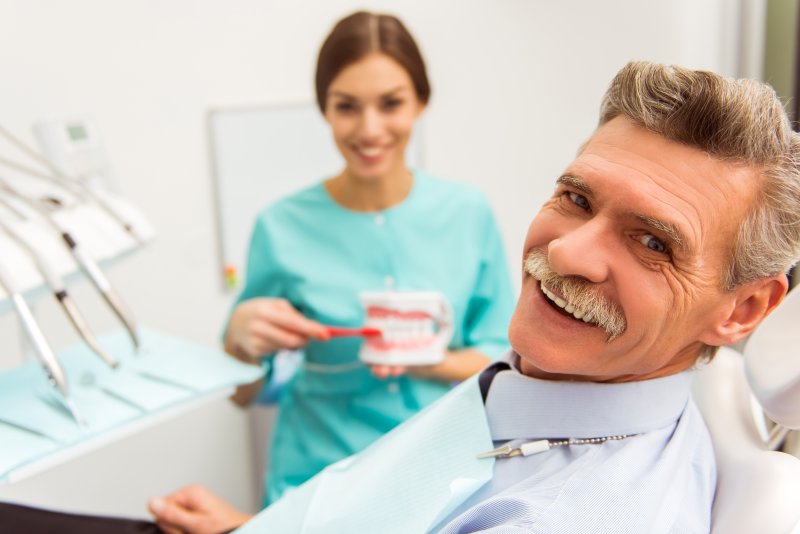 There's a common myth that if you have dentures, you won't need to see your dentist much anymore. However, even if you no longer have natural teeth to care for, ensuring your restorations are in good condition is vital! By taking preventive measures, you can help maintain your new pearly whites as well as your overall health. Keep reading to learn four reasons dental checkups with dentures are still necessary.
Reason #1: Preserve Your Dental Hygiene
Whether you have full or partial dentures, you should consider visiting your dentist regularly to preserve your dental hygiene. If you have no more permanent teeth, then you can still be at risk for gum disease. Any remaining ones can also have a higher chance of getting cavities if left untreated. Though you may practice proper dental hygiene at home, your dentures can still be susceptible to plaque buildup over time. For this reason, having your dentist provide a professional cleaning and checkup can go a long way!
Reason #2: Early Prevention
Certain serious oral issues, like gum disease and oral cancer, can actually be stopped in its tracks with a dental checkup. Since your dentist will assess your mouth, they can detect and treat any developing problems they might find. This way you can keep yourself on track with great oral and overall health.
Reason #3: Changing the Fit of Your Dentures
If you have missing teeth, then you may experience changes in your jawbone over time. This can affect the fit of your dentures, potentially causing issues like discomfort, sores, TMJ, or gum disease. To avoid this, your dentist will need to regularly maintenance and adjust your restorations to ensure they fit correctly.
Reason #4: Extend the Use of Your Dentures
By frequently monitoring and adjusting your dentures, your dentist can help identify signs of damage as well as prolong their life! In addition to preserving their functionality, your doctor can offer you tips on how to properly care for them on a daily basis. Combining your efforts with your dentist's help can make your dentures last up to seven years before needing replacements.
If you want to be sure that your oral health remains top-notch, especially with dentures, then regular dental checkups are the way to go! With regular scheduled visits, you can enjoy a strong and healthy smile for years to come.
About the Author
Dr. Andrew Betaharon is an active member of several organizations including the Maryland State and American Dental Associations, and the Patuxent Dental Society. He earned his dental doctorate from the University of Maryland, School of Dentistry, and remains up-to-date with the latest technology and techniques to provide high-quality dental care. He offers a large selection of treatments, including dentures. If you'd like to schedule a dental checkup and cleaning, visit his website or call 240-349-2439.