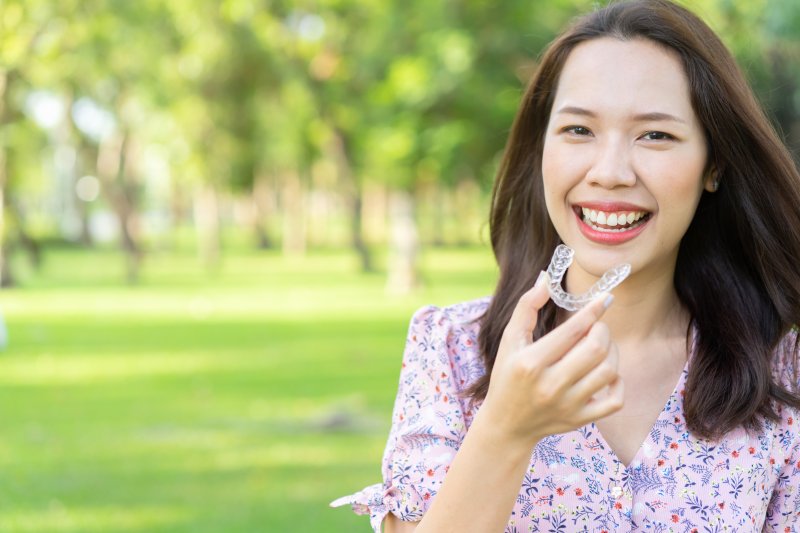 People usually break from their habits when they're on a trip, but that shouldn't apply to Invisalign. You need to wear and care for these aligners daily, regardless of where you're staying. Skipping out on them can slow your treatment progress and even make them less comfortable.
To keep such misfortune from happening to you, here are four essential tips for traveling with Invisalign.
Pack Essential Items
You've likely packed dental essentials for previous trips. Fortunately, many of these same items are needed to care for your Invisalign while away. Remember to bring these oral health travel items:
Travel Toothbrush: Try to pack multiple toothbrushes in places like your suitcase, carry-on, or handbag so you can clean your teeth after meals before replacing your aligners.
Floss: With or without Invisalign, you should always remember to floss once a day.
Mouthwash: Rinsing will clear away debris that your toothbrush can't reach.
Invisalign Case: Whenever you take your aligners out, always put them back in the case to prevent them from getting lost.
Keep Up Your Routine
Even if you want your vacation to be responsibility-free, you'll still need to practice good dental hygiene. So, continue to brush and floss daily to preserve your healthy smile.
One benefit of Invisalign is that it lets you eat and drink what you want when you take out your aligners. However, you don't get to ignore the mandatory 22-hour wear time just because you're having BBQ or sipping Mai Tais all day. Keep the requirement in mind by setting a timer for your food and drinks.
Make Sure the Water is Safe
Depending on where you're headed, you may need to assess the water you'll use to brush your teeth.
If you're unable to drink the local tap water, you shouldn't brush or rinse with it. When in doubt, only use bottled water on your toothbrush to avoid getting sick. Since Invisalign requires you to brush after every meal, always have a bottle of safe water on hand.
Tell Your Dentist Beforehand
You should have an appointment with your dentist before leaving. By doing so, the checkup will help keep your treatment on track while you're away. You and the dental team can also discuss any necessary adjustments to upcoming visits if you have extended travel plans.
It's possible to have a great trip and adhere to Invisalign guidelines. By following good oral care at home and abroad, you'll ensure that straighter teeth are part of your life's journey.
About the Author
Dr. Andrew Betaharon is a dentist practicing in La Plata, MD, having graduated from the University of Maryland's School of Dentistry. As a member of the American Dental Association, Maryland State Dental Association, and similar groups, he pursues continuing education to serve his South Maryland patients. Dr. Betaharon has also been a certified Invisalign provider since 2011. He currently practices at La Plata Dental and can be reached at his website or by phone at (240)-349-2439.