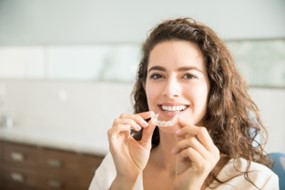 Many people aren't happy with their smiles because of their crooked teeth; yet they are sometimes apathetic towards seeking treatment because they don't want to deal with the hassle of braces. But luckily, Invisalign is a discreet and comfortable alternative to traditional braces that can provide patients with a straighter and healthier set of pearly whites. You might be curious about receiving Invisalign for your smile; here are four things that you should know about this orthodontic solution.
1. There's A Mandatory 22-Hour Wear Time
Invisalign works by gradually shifting your teeth into a correct position over time. This process is typically faster than traditional braces, but it still takes a few months. This is to help minimize the amount of discomfort that you feel over the course of your treatment. That said, it's crucial that you wear your aligners for 22 hours every day! If you don't regularly wear them, you will disrupt and prolong your treatment's progress.
2. You Can't Eat or Drink While Wearing Them
Your aligners must be taken out whenever you need to eat or drink, period. The only exception to this rule is water; but for anything else, you should take out and properly store your aligners until you're finished. Your aligners aren't durable enough to endure the pressure of biting and chewing, and they cannot straighten your teeth if they become damaged! Also, certain foods and beverages contain staining agents that can discolor your aligners, severely decreasing their subtlety.
3. They'll Take Some Getting Used To
Your aligners won't feel natural at first and wearing them frequently might seem a little difficult. They will also probably affect your ability to speak and make certain sounds; however, this is natural, and your tongue and mouth will gradually get used to speaking properly while you're wearing them. You might also experience some soreness when getting used to your aligners, but over-the-counter pain medication, drinking cold water, and swapping to your new set of trays right before bedtime can all help to alleviate this discomfort.
4. Oral Hygiene Is Still Important
Your Invisalign does not exempt you from oral care! In fact, keeping your mouth clean is arguably more important than ever when you're undergoing treatment. Food particles and debris can easily get caught between your teeth and trays if you don't brush thoroughly after eating, so try to brush and floss after every single meal. You should carry a portable oral hygiene kit with you while you're undergoing treatment to assist with keeping your mouth clean.
Invisalign can change your life by giving you a straighter and healthier smile, and in a quick and convenient fashion, too! Knowing what to expect before beginning your treatment can ensure that things go smoothly and successfully.
About the Practice
La Plata Dental serves patients and families in the La Plata community under the leadership of Dr. Mark Hochman and Dr. Andrew Betaharon! Both bring several years of experience and expertise to the practice, and they are proud to offer a wide range of dental services, including Invisalign! If you have any questions about Invisalign or would like to schedule an appointment, feel free to visit the practice's website or give them a call: (240) 349-2439.