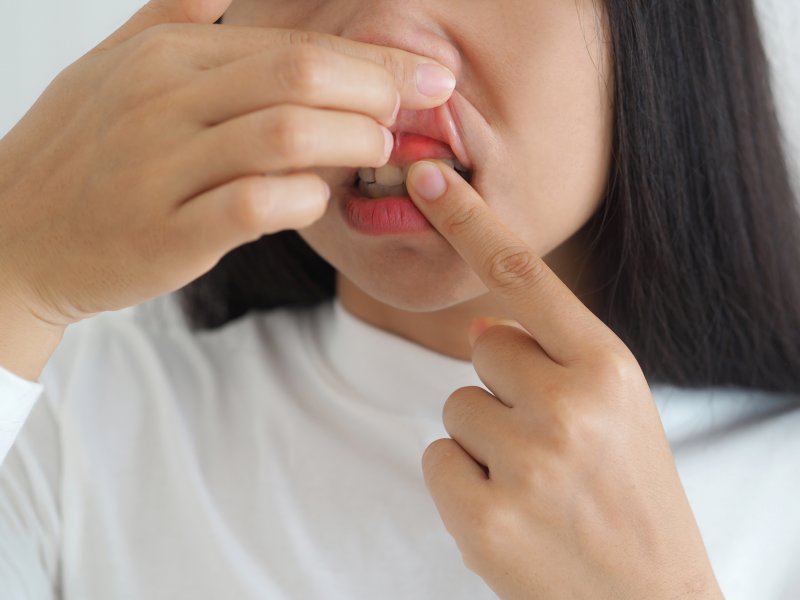 While looking in the bathroom mirror one morning, you realize you have a small bump on your gums. You may instantly begin to panic and wonder what your next steps should be. Although these bumps are usually harmless, there are some cases where they're an indication of a serious oral health issue. With that in mind, read on to learn about some possible causes of a bump on your gums and which signs indicate you should visit your dentist in La Plata.
What Causes a Bump on the Gums?
Finding a bump anywhere on your body is often alarming, especially when it's on your gums. The good news is that it's usually not considered a medical emergency! Some of the most common causes include:
Cyst
The majority of dental cysts form around the roots of dead or buried teeth. They're small bubbles filled with air, liquid, and other soft materials. Since they grow slowly over time, they rarely cause symptoms unless they're infected. If you have a cyst, you may notice pain and swelling around the bump. It's often removed with a simple surgical procedure.
Abscess
An abscess is a small collection of pus typically caused by bacterial infections. It may feel like a painful, soft, warm bump. If you think this is the issue, you should see your dentist right away to address the infection and drain the pus.
Canker Sore
A canker sore is a small mouth ulcer that forms at the base of the gums. Even though it's usually harmless, it can be painful when it's inside your mouth. Luckily, most sores heal within one to two weeks. You can apply an over-the-counter analgesic to the area to help ease your discomfort.
Fibroma
The most common cause of a bump on the gums is an oral fibroma. They're noncancerous lumps that develop on the irritated or injured gum tissue. Oftentimes, fibromas are painless and feel like hard, smooth, dome-shaped lumps. Most cases do not require dental treatment!
When Should You See a Dentist?
As mentioned earlier, most bumps on gums are harmless. If you notice any of the following signs, you should see your dentist right away for treatment:
Fever
Throbbing pain
Foul taste in the mouth or foul-smelling breath
A sore that doesn't heal
A sore that's worsening
Red or white patches inside your mouth or on your lips
Bleeding sore or lump
Do you have a bump on your gums? Make an appointment with your dentist and they'll identify the underlying cause. With their help, you can ensure your smile remains in tip-top shape.
About the Practice
At La Plata Dental, we offer high-quality and comprehensive dental services for patients of all ages. Our team always goes the extra mile to ensure everyone receives the exceptional care they deserve. If you are worried about a bump on your gums, we can examine it and identify what's causing it. To make an appointment, visit our website or call (240) 349-2439.