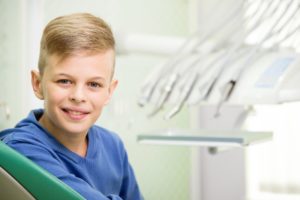 Radiation is found everywhere, from space to the air you and your family breathe. Although it is natural, too much radiation can damage DNA cells. It's normal to have concerns about adding to your child's daily radiation exposure with dental X-rays, but there's nothing to fear. Digital X-rays virtually eliminate radiation exposure to provide safer dental care for your little one. Here's why you can relax the next time your child needs digital X-rays.
Why are Dental X-Rays Important?

Not all oral health issues can be seen from the surface. Dental X-rays give your dentist a complete picture of your child's oral health and development. They can look for concerns that aren't visible to the naked eye, like tooth decay, impacted teeth, or infections. Not only can they see current issues but also future complications that may occur with the adult teeth. X-rays provide quicker detection for earlier intervention to avoid invasive or costly treatments later. 
Are Dental X-Rays Safe?
Yes! Digital X-rays use far less radiation than traditional film. Research has found they use 90% less to capture the images necessary to keep your child's smile healthy. That's less than the amount your child is exposed to in the environment each day. Not to mention, they are a quick and comfortable alternative to biting on film strips. In a matter of seconds, the dentist will have high-quality images to see every detail of your child's smile. 
You and your child will spend less time in the dental office because you don't have to wait for any film to develop. Instead, the images can be viewed on a computer screen instantly. This also allows your dentist to enlarge the images to spot the smallest concerns. The images can also be saved and stored in your child's patient file for easy reference. 
When are Dental X-Rays Necessary?
There's no specific age when your child will need their first dental X-rays because every mouth and situation differs. However, they are recommended every 6 months because children are more prone to tooth decay than adults. In fact, cavities are more common than childhood asthma. Besides looking for decay, your dentist may recommend them for other reasons as well. On average, children can require more frequent X-rays because their teeth and jaws are continuously developing. 
Don't worry, your dentist will keep your child's comfort as their priority throughout the entire dental visit. They'll explain what to expect and why it's necessary to ease your child's anxiety. The quick, comfortable process will help support the growth and development of your little one's beautiful smile.
About Dr. Mark Hochman
Dr. Hochman achieved his dental degree at the Howard University School of Dentistry and has completed continuing education to provide care for patients of all ages. He combines his qualifications with the latest technology to deliver superior dentistry. If it's time for your child's next cleaning and checkup, contact our office today to schedule an appointment.