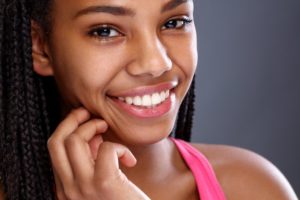 Do you think your teeth are too small, short, or "stubby"? If so, you may feel self-conscious about flashing your smile. No matter how long you have been unhappy with your pearly whites, the advancements in cosmetic dentistry have made it possible to change them in a short amount of time. Your dentist can transform your teeth into the grin you have always dreamed of. Read on to learn about why your teeth are small and three treatments that can help.
Why Do You Have Small Teeth?
Teeth that develop smaller than the average size, or just appear smaller, are known as microdontia. While many people will naturally have a few small teeth, those with microdontia have most of their smile affected.
Microdontia is usually hereditary; however, it can be a symptom of a genetic disorder. Another reason for your smaller teeth could just be due to normal wear and tear or excessive teeth grinding.
Unfortunately, smaller teeth are not just an aesthetic issue. They can cause your bite to be misaligned, which can lead to tiredness, headaches, and facial pain. If left untreated, your pearly whites can become so small that the raw nerve is exposed, causing extreme discomfort and sensitivity.
What Cosmetic Treatments Can Improve Your Smile?
No matter what the cause of your microdontia is, you can improve your teeth with cosmetic dentistry. Here are three common treatments to change your teeth's appearance:
Veneers
These ultra-thin shells of dental porcelain are adhered to the front surfaces of teeth, concealing your smaller teeth from view. Your new smile will also look completely seamless and natural-looking since the porcelain sheaths are custom-matched to the enamel of your surrounding teeth. Your new smile will not only be brighter but more resistant to staining!
Cosmetic Tooth Bonding
Cosmetic bonding is the perfect solution for minor dental issues, including microdontia. By applying a tooth-colored resin to your shorter teeth and sculpting it to perfection, your teeth will be reshaped in as little as one hour!
All-Ceramic Crown
For years, metal crowns were used to repair damaged teeth. Now, dentists can use custom-made porcelain (ceramic) caps to not only restore your teeth but help correct their shape and appearance. These metal-free restorations combine the best qualities of both cosmetic and restorative dentistry. You will have an aesthetically pleasing grin and improved oral health!
About the Author
Dr. Mark Hochman and the team at La Plata Dental give you personalized dentistry with a focus on comfort. With the latest dental techniques and technologies, his priority is for you to receive high-quality and efficient service to fit your cosmetic goals. His advanced cosmetic training can help you achieve the smile of your dreams! If you would like to learn more about veneers, cosmetic bonding, or all-ceramic crowns, contact him through his website or call (240) 349-7358.