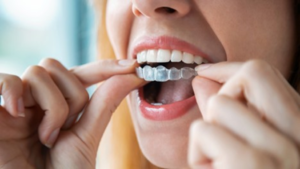 Invisalign is one of the hottest orthodontic treatments around—while in the past patients have relied on traditional metal brackets and wires to straighten their teeth, correct bite issues, and improve their oral health, the clear aligner technology utilized by Invisalign has taken the world of modern dentistry by storm. But how effective is this solution when it comes to addressing overbites, underbites, or other types of bite problems? Keep reading to learn more!
Yes, Invisalign Can Address Certain Bite Problems
Most people opt for Invisalign to straighten teeth that are stubbornly misaligned, spaced out, or crowded, but believe it or not, clear aligners can also be employed to address certain bite issues, including overbites. Other types of bite problems, including underbites and crossbites, are also treatable with the assistance of Invisalign, but depending on the type of bite and severity of the issue, additional appliances may be needed.
Overbites are one of the most common bite problems among all age groups, especially children; however, they can easily be corrected by taking advantage of a patient's growth. Appliances like the Invisalign Mandibular Advancement or elastic bands can be used to shift the bottom teeth forward, while moving the top ones back, effectively gradually nullifying the present overbite.
Key Factors That Influence Invisalign
When it comes to Invisalign, regardless of the issues that are being addressed, there are certain factors to keep in mind that ultimately determine the success of the treatment:
The patient's age – Typically, patients under the age of 12 aren't good candidates for Invisalign since their jaws are still growing. Generally, braces will be a better orthodontic solution for younger children.
The severity of the issues being treated – Invisalign really shines when it's addressing minor or moderate bite issues, so severe cases typically need to be treated with traditional orthodontics.
The patient's compliance with treatment – Patients who aren't able to wear their aligners as intended, or those who lose or damage their aligners, will experience setbacks during the treatment process.
If you suffer from a minor bite issue, you should check with your dentist to see what your recommended orthodontic options are; Invisalign might be just the solution you need to smile brightly and confidently once more!
About the Practice
Under the leadership of Dr. Mark Hochman and Dr. Andrew Betaharon, the team at La Plata Dental is thrilled to serve patients and families in the La Plata, MD community. The practice offers a wide range of services including Invisalign for your orthodontic needs. If you have any questions about the blog or are curious to see if Invisalign might benefit your situation, don't hesitate to contact the practice today for additional information or to schedule a visit. Telephone: (240) 349-7358.