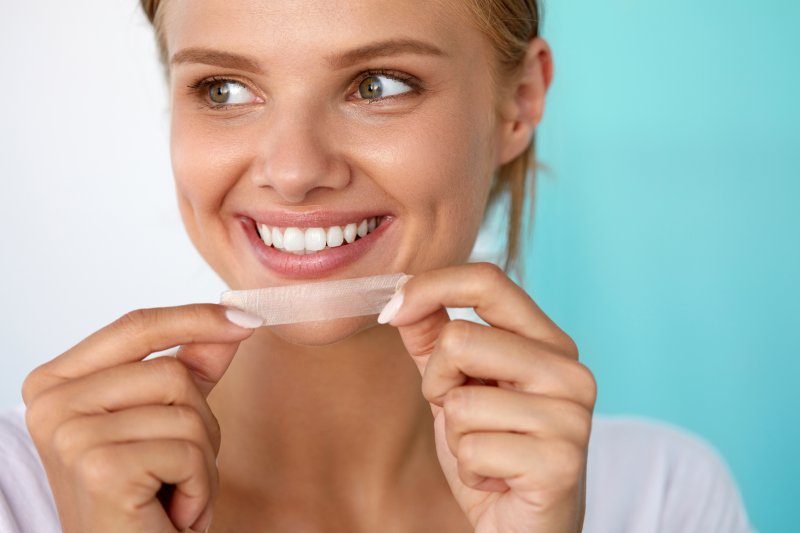 Nobody's smile is quite the same, and one of the best aspects of cosmetic dentistry is getting to accentuate the things that make your unique smile beautiful! That said, there are a lot of people who would prefer it if their teeth were a little bit whiter, which may be why teeth whitening is so popular.
Professional teeth whitening can produce fantastic results, but some people try to get the same results with over-the-counter whitening products and run into problems. Here's why that's a bad idea.
They Can be Dangerous
When you get a professional tooth whitening treatment, your dentist will take the time to understand what you need to get the smile you're looking for and will adjust the strength of the treatment accordingly. That means the treatment won't be dangerously powerful, or so weak that you're tempted to overuse it.
More importantly, the bleaching solutions that your dentist uses will be applied by a professional, meaning that there isn't any risk of the bleaching solution getting on your gums and causing damage.
They Aren't as Effective
When companies design professional whitening solutions, they do so with the assurance that they'll be used by an experienced dentist, which means that they can make the bleaching solutions stronger without worrying about negative consequences.
However, that same assurance isn't there for over-the-counter whitening, which means that they need to be considerably weaker. As a result, you're less likely to get professional-level results, and more likely to accidentally overuse the product in an attempt to.
They Don't Look Quite as Good
When a dentist makes a tray-based whitening kit, the first thing they'll do is to take an impression of your teeth to craft the tray. Over-the-counter whitening kits often use one-size-fits-all whitening trays, which tend to not fit the mouth as well.
This means that the bleaching solution is typically not able to cover each tooth evenly, leading to patchy, inconsistent results.
It's natural to want to whiten your smile, but there are good and bad ways to go about it. If you want to get good results safely, there really isn't any substitute for professional whitening treatment.
About Our Practice
At La Plata Dental, we take the time to ensure that every patient that we see not only gets the care that they need, but that they feel completely welcome and at home while they're in our office. Our dental team will make it a point to get to know you as a person, and your dentist will take the time to customize your treatment to your individual needs. Every patient is unique, and here, every one of their treatments will be too!
If you have any questions about the risks of over-the-counter whitening solutions, we can be reached at our website or by phone at (240) 349-2439.