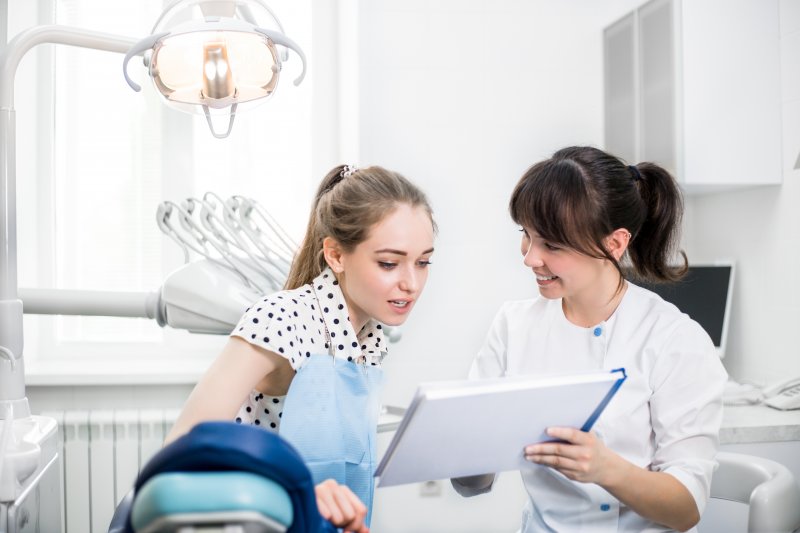 When it comes to orthodontic treatment, it's important that dentists recognize that they rarely have perfect teeth to work with. In reality, many people have received at least one dental crown in their lifetime. If you have had any dental work completed, including crowns, bridges, or veneers, you may be unsure if braces or Invisalign are possible for your smile. According to a dentist, here's what you should know ahead of your first consultation for orthodontic care.
Will My Dental Work Cause Problems for Braces?
If you intend on receiving traditional braces that use brackets and wires, certain types of dental work can lead to problems later. This is because the brackets may have difficulty adhering to your restorations. In the case of veneers, this is often the case.
However, there are dental adhesives out there that can make it possible for brackets to attach to specific types of crowns. For example, if you had a root canal previously, your tooth may not be strong enough for braces. Be sure to let your dentist know if this is the case (assuming they were not the ones who performed the root canal).
At the end of the day, the quality, amount, and kind of dental work you had will all impact your orthodontic options. The more medical information you give the dentist, the better they'll be able to give advice based around your needs.
Can Invisalign Be a Feasible Alternative?
Braces are not possible for everyone with dental work, but Invisalign is quite different. For example, Invisalign does not require components that attach to teeth directly. This means they can help you avoid the limitations that come with traditional braces.
With that said, Invisalign cannot address severe misalignment concerns like traditional braces can. If you have more moderate levels of misalignment, then it may be easier for you to complete, despite having existing dental work.
Should I Receive Dental Work Before Orthodontic Care?
If you're looking for a smile makeover, it may be necessary for you to receive a combination of restorative, orthodontic, and cosmetic care. In certain cases, it's best to get braces before you receive crowns, bridges, or veneers for the reasons mentioned previously.
About La Plata Dental
The dentists of La Plata Dental offer restorative, cosmetic, and orthodontic services to help you resolve any and all your dental needs. With decades of combined experience between the two of them, Dr. Hochman and Dr. Betaharon are prepared to hear your concerns directly so you can feel confident about your future dental treatment. To schedule an appointment, you can contact them through their website.