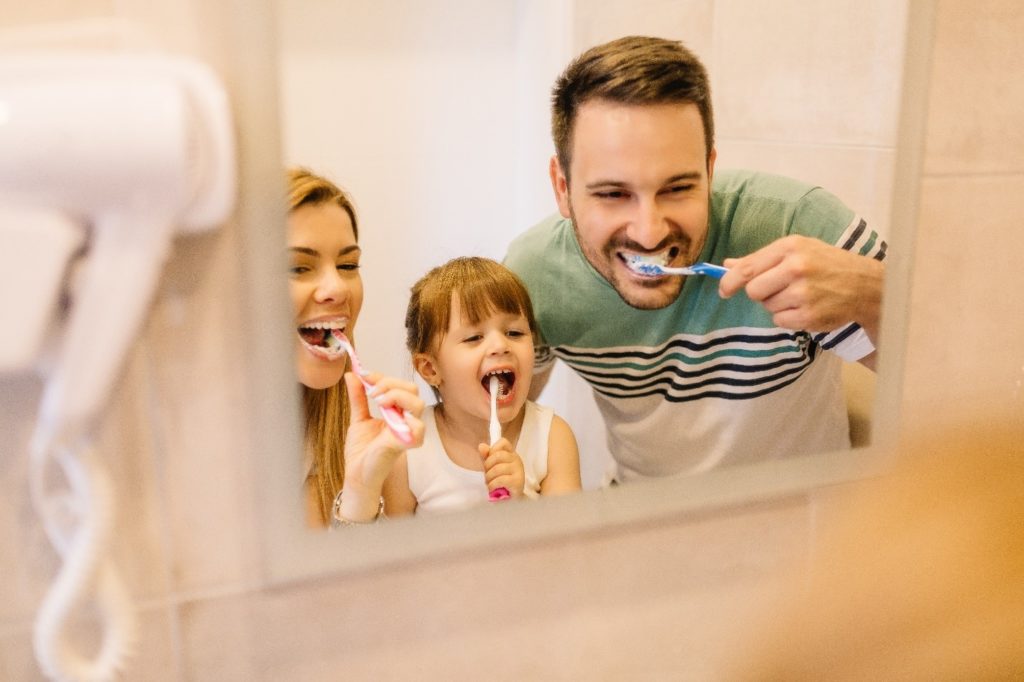 Educating your child on the significance of oral care can be a challenging task. If your child shows reluctance when it comes to brushing and flossing their teeth, fear not! There are strategies to make this routine more appealing to them. To assist you and your little one in maintaining a healthy smile, continue reading to discover six entertaining and effective tips for transforming oral hygiene into an enjoyable experience.
#1: A Dental Care Playlist
Transform your child's brushing regimen into a musical escapade! Inspire their enthusiasm for teeth brushing by incorporating their cherished, lively tunes. Handpick songs that match the recommended two-minute brushing duration, ensuring a delightful and engaging experience. Witness your child's rhythmical moves as they maintain a gleaming, healthy smile.
#2: Kid-Friendly Flossers
Turn flossing into an effortless and pleasurable routine for your child! Introduce them to kid-friendly flossers such as GumChucks, featuring captivating trading cards, character motifs, and other delightful extras. These unique flossers will pique your child's interest in flossing, seamlessly integrating it into their dental hygiene regimen as a fun and playful activity.
#3: Let Them Pick Their Toothbrush
Infuse excitement into your child's oral hygiene routine by including them in the toothbrush selection adventure! Bring them along to a grocery or drug store and empower them to handpick their very own toothbrush. Encourage them to opt for one adorned with vibrant colors and featuring their beloved characters, turning brushing into a personalized and enjoyable ritual.
#4: Get Fun Flavors of Toothpaste
To enhance the joy of tooth brushing for your child, delve into the assortment of toothpaste flavors on the market. In addition to the classic mint, you'll discover enticing choices such as strawberry, bubble gum, and watermelon. Ensure that the toothpaste you select bears the ADA Seal of Approval or is endorsed by your child's dentist, guaranteeing not only a delightful taste but also effective oral care.
#5: Make Oral Hygiene a Family Event
Establishing a favorable precedent holds paramount importance in imparting sound oral hygiene habits to children. Young minds acquire knowledge through observation and mimicry, so it's essential to employ optimistic language when discussing brushing and flossing.
Illustrate the significance of oral care by engaging in simultaneous brushing and flossing sessions with your children, demonstrating the correct techniques. By serving as a role model, you can inspire your child to cultivate enduring dental practices to contribute to lifelong excellent oral health.
#6: Develop a Reward System
When your child requires an additional dose of encouragement, employing incentives can prove to be a successful tactic. Craft a chart to monitor their dedication to regular brushing and flossing, incorporating images of the rewards they'll earn for upholding excellent oral hygiene.
This visual depiction will assist them in staying committed and linking positive outcomes with their dental care regimen. Through the use of incentives, you can motivate your child to establish a practice of good, thorough oral hygiene.
About the Practice
La Plata Dental is dedicated to addressing oral health concerns and educating patients on effective prevention strategies. As a trusted provider of pediatric dentistry, they offer a comprehensive array of services to promote children's oral well-being. These services encompass routine checkups, fluoride treatments, and more. The proficient dentists at La Plata Dental are committed to nurturing healthy and joyful smiles in children. For additional information about their inclusive dental care offerings for children or to arrange an appointment, visit La Plata Dental's website or call (240) 349-2439.