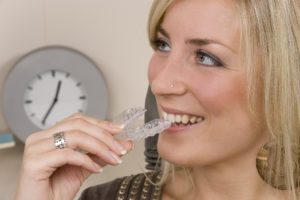 If you've decided to straighten your smile using Invisalign clear braces, you've likely done some reading online. The main complaint for most Invisalign patients is that their aligners started to discolor or smell towards the end of the two weeks of wear time. With proper care, this should not happen. In this post, we'll walk you through some pointers for keeping your alignment trays clean and sanitized.

1 – Brush Your Teeth – Brush Your Aligners
Every time you brush your teeth, you should also brush your aligners. That means at least two times each day you should be brushing your aligners. For best results, we encourage patients to use a separate toothbrush to clean their aligners and teeth. You should also use cold water at all times as hot water can warp the plastic. Thoroughly brush the entire aligner inside and out and rinse it completely.
2 – Always Store Aligners Properly
When you remove your alignment trays for meals or any other reason, you should carefully store them in an Invisalign storage case. If you don't have a storage case, place your aligners in a glass of water. To improve the freshness of your Invisalign tray, you can store the aligners in diluted antimicrobial mouth rinse while you eat. This will reduce plaque buildup and improve your breath.
3 – Brush Teeth & Rinse Your Aligners After Meals
You should brush teeth and aligners at least twice each day. However, the best way to prevent your aligners from discoloring or developing strange smells is to brush between means. If you don't have time to brush after every meal, you should at least take the time to thoroughly rinse out your mouth and clean off your alignment trays using cool water.
4 – Contact a Dentist if Your Aligner is Damaged
If you notice your alignment tray has warped or is otherwise damaged, call your dentist immediately. Switch to your previous set of aligners until you visit the office, but do not wear damaged or bent Invisalign trays This can have adverse effects on your treatment plan.
Meet the La Plata Dental Team
At La Plata Dental, we are here to help with all of your preventive, restorative, and cosmetic dentistry needs, including offering customized Invisalign clear braces treatment plans. We work hard to provide patients with a positive dental care experience. If you want to learn more about Invisalign orthodontics or any of our other treatments, please don't hesitate to give our team a call. We look forward to helping you achieve your straight, healthy smile in our La Plata dentistry practice.